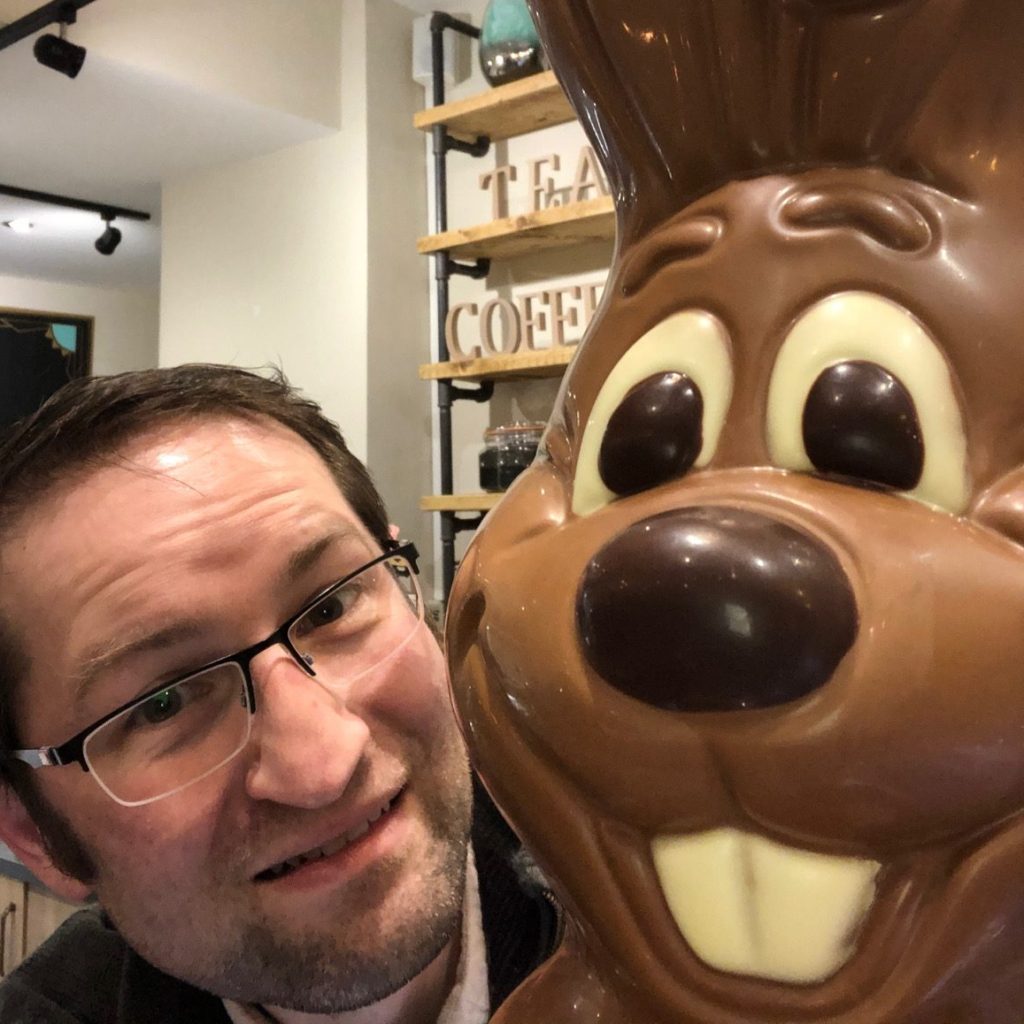 PLEASE NOTE THAT OUR EASTER RAFFLE HAS BEEN PUT ON HOLD DURING THE COVID-19 SITUATION. PLEASE CLICK HERE TO FIND OUT MORE
Each Easter, we have put a sizeable chocolate item up as a raffle prize to raise vital funds for local worthy causes and charities. Over the past few years, our generous customers and supporters have raised thousands of pounds, for which we are very grateful. The generosity has not stopped there, with our chocolate prizes being further donated to other charities by winners to do even more good, which we have been delighted to hear about.
This year, now in our new, larger premises, we are going bigger! We would like to raise even more than ever to benefit more great causes here in our local community. And as such, firstly, we have some sizeable incentives.
Meet our Head of Fundraising, Bob the Bunny. At over 2 feet in height and weighing in at almost 2.5kg, Bob is one serious chocolate Easter bunny. He is also our main prize. But alongside Bob, we also have not one, not two, but three giant Easter eggs to give away. These are 1.5kg each, made of milk chocolate, decorated with a swirl of sweets. We hope that these will be incentive enough to have all of our customers dig deep and help us raise a record breaking amount of money for some worthy local causes.
But which organisations are going to be benefitted from this year's Easter raffle? Well that's partly up to you. We would like you to nominate local charities and worthy causes who you feel could benefit hugely from some additional funding. They may be healthcare charities, educational organisations, arts projects, community events, or something completely different. It's really up to you. We will then take all of the nominations and select two to receive a split of the funds raised from this years Easter chocolate raffle.
To nominate a cause or charity, simply email info@chocolatefayre.co.uk with the following information:
Organisation or Group Name
Contact Person
Contact Phone Number
Contact Email
Charity Number (if applicable)
In one sentence, what does the organisation or group do?
How would the extra money benefit the organisation or group?
How does the organisation or group benefit the local community?
The deadline for nominations is Tuesday 16th March, so you haven't got a lot of time. Get nominating!