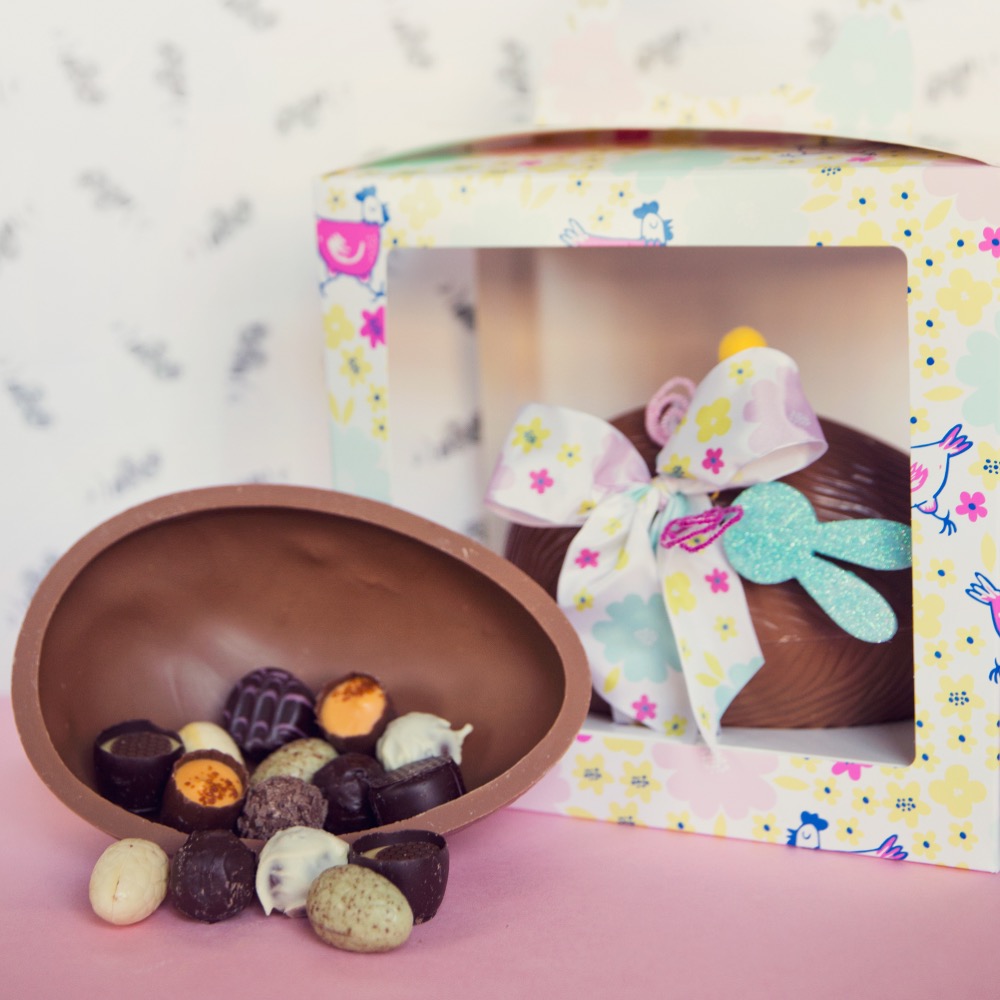 (Updated Monday 6th April)
LAST DAY FOR ORDERING EASTER EGGS FOR LOCAL DELIVERY – WEDNESDAY 8th APRIL.
Our ever popular Easter Eggs have been laid and are ready! As always, our eggs are made up of thick Belgian chocolate shells, with a variety of popular chocolates inside the egg (yes – the proper way!), and packaged in beautiful gift boxes. The perfect Easter treat.
As with previous years, there are a number of sizes and varieties. So here's what you have to choose from:
A thick milk chocolate shell containing a selection of milk chocolates
A thick dark chocolate shell containing a selection of dark chocolates
A thick milk chocolate shell containing a selection of milk, dark and white chocolates
Each variation is available in any of three sizes, and are priced the same as they have been for 3 years now:
Small eggs weigh in at 300g, contain 8 chocolates and are priced £15.00
Medium eggs weigh in at 450g, contain 12 chocolates and are priced at £24.00
Large eggs weigh in at 650g, contain 20 chocolates and are priced at £33.00
We also have small milk chocolate egg shells made from no-added-sugar chocolate, containing a selection of 8 no-added-sugar chocolates available at £15.00 for those who have got diabetes, or on a sugar-controlled diet.
With the Covid-19 issues, obviously you can't pop into the Chocolate Fayre shop and collect them from us in the traditional way. And unfortunately we cannot post them out, since they are unlikey to survive intact! However, for those of you living locally, we will happily deliver our eggs to anyone living within a 10 miles of Barnard Castle (and possibly further afield, if you want to order enough eggs!).
Please call us on 01833 631 307 to place an order, pay safely and securely over the phone, and we'll deliver your eggs contact-free, and completely free of charge in our local area. Please note that we are only in the shop Monday to Friday, so will call back any voicemail messages left over weekends as soon as we can on the following Monday.
For those of you living further afield, there are still plenty of delightful Easter gifts which you can order online, (including eggs suitable for vegans, dairy free and gluten free dietary requirements) and which we can post out safely in the usual way across the UK. Please have a look through the Seasonal page for full details, and remember it is free standard delivery for all orders over £20.