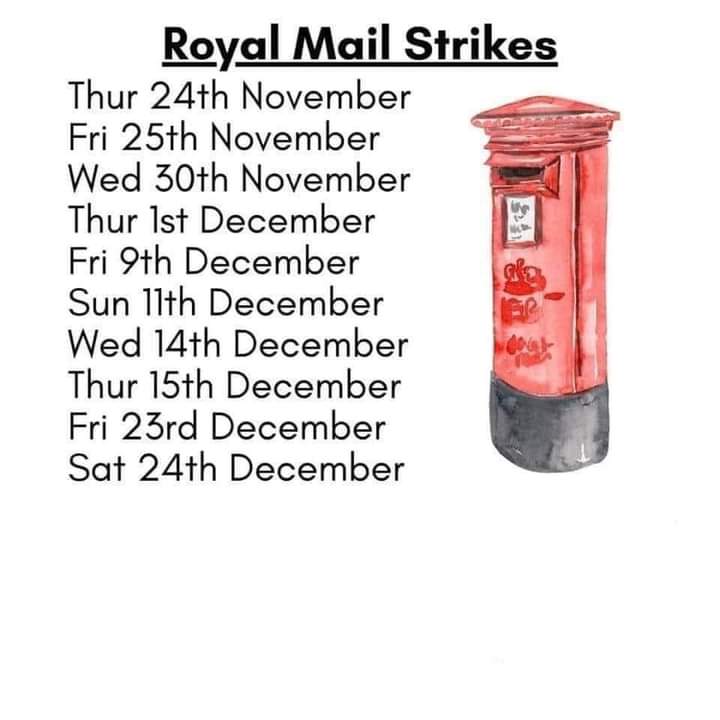 Updated 7th December
PLEASE NOTE THAT WE HAVE BROUGHT FORWARD OUR LAST ORDER DATES FOR CHRISTMAS TO MINIMISE FURTHER DELAYS FROM POSTAL STRIKES. 2nd Class orders should now be placed by FRIDAY 9th DECEMBER, and 1st Class orders should now be placed by 2pm MONDAY 12th DECEMBER.
I thought it would be wise to just give you some advance notice about posting gifts in the lead up to Christmas. I always want to see all of your gifts arriving in perfect condition and on time, especially for special occasions, such as Christmas. However this year, we have a few extra challenges to contend with!
As you're probably aware, staff at the Royal Mail are striking during various days between now and Christmas.
AS OF 24th NOVEMBER, THERE ARE PLANNED POSTAL STRIKES ON THE FOLLOWING DAYS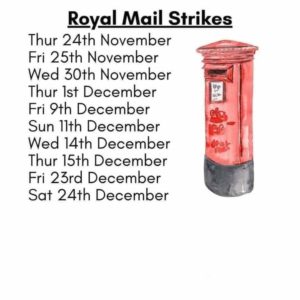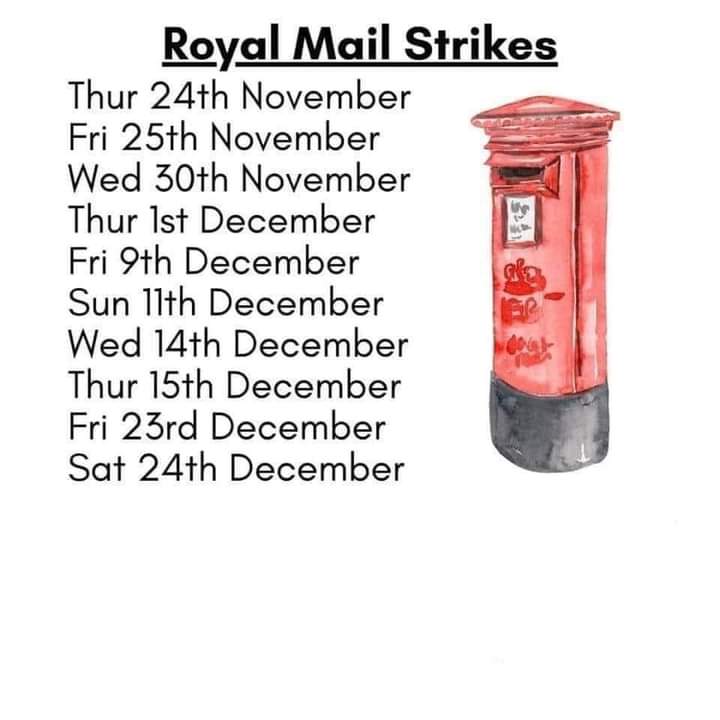 We'll do everything we can to pack and post all of your orders as fast as we can, but please allow additional time for deliveries while these strikes are going on, as there will be no collections of orders from us by Royal Mail, and no deliveries to customers during these days by Royal Mail meaning that at times there could be a delay of at least 3 or 4 working days, in some cases, on top of our usual delivery days advertised. Unfortunately it's impossible for us to predict the precise impact of the strikes for our customers, so our advice is order early, and we'll do what we can to get orders to their recipients as fast as we can, but sadly, we can't guarantee our usual level of timely service during these unusual times.
We've had some enquiries as to why we don't use another courier service during the strikes. The simple reason is that even the cheapest alternative couriers would cost us more, which would mean that we'd have to increase our postal prices considerably at a time when many can't afford this.
When it comes to Christmas, I'd really appreciate it if you could get your orders in early, firstly to make sure we don't sell out of the products you'd like, and secondly to make sure there is enough time to get them posted out to their intended destinations!
So, to guarantee your orders get delivered in time for Christmas, please order by Friday 9th December for standard 2nd Class delivery, or by 2pm Monday 12th December for 1st class delivery.