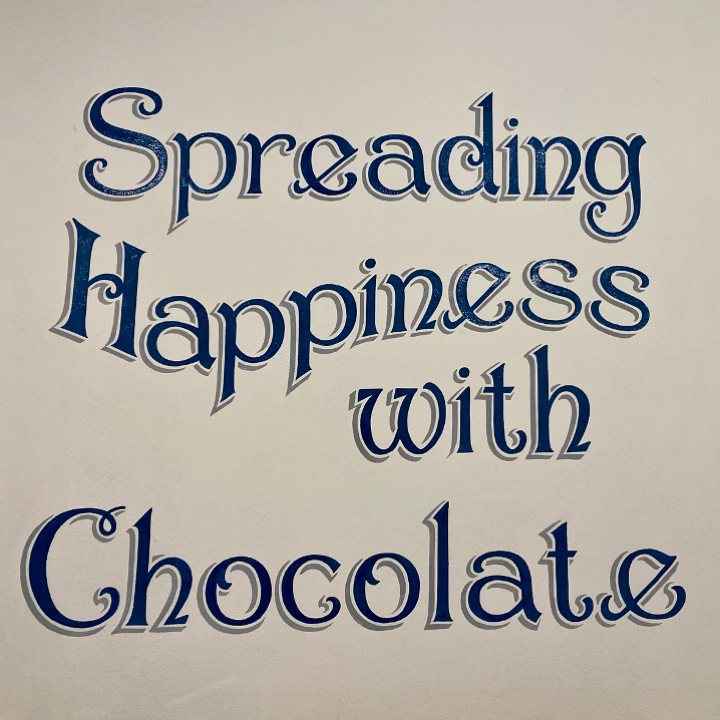 May 2022 is a big year for us, as we celebrate our 35th Anniversary! That's right, Chocolate Fayre has been operating in Barnard Castle for 35 years!
In May 1987, a former tobacconist shop situated on the high side of Barnard Castle's Horsemarket was converted into a new and exciting shop named Chocolate Fayre. Launched by Ken & Hazel Robinson, already well established names through their general store in Staindrop, they quickly established a reputation selling fine continental chocolates and other confectionary (including the famed chocolate animals), and ice cream, which could cause queues out the door on summer's days, and sunny bank holiday weekends, with the weekend and summer student staff recalling their aching scooping arms after such a busy shift!
As the new millennium approached, Ken and Hazel (by that stage grandparents) began to consider the idea that retirement, a long holiday, and some well-deserved family time might be a good idea. So in January 2000, the keys were handed over to Sandra and David Sumner. Sandra was keen to continue with a similar range of delicious products to the Robinson's before her, and went about things with an eye for presentation, impeccable customer service. Like Ken and Hazel, the Sumners employed a number of weekend, seasonal and casual staff over the years, probably best remembered of which was the patient, friendly and completely unflappable Christoph. Swiss-born, and still very much carrying his native accent, despite living in the UK for many years by then, his demeanour and flare for a well-placed, very dry comedy comment was appreciated by many of the shop's customers. Indeed, many customers were under the impression that the shop was in fact under the ownership of Christoph, such was his pride in everything Chocolate Fayre!
As its popularity grew, and the space at number 33 became almost unmanageable, Sandra and David began looking for a slightly larger premises in town. As it happened, one came up right next door, and the move to 31a Horsemarket happened in 2008, allowing for a more space for customers to browse, and larger chocolate cabinet, and space for a greater range of tempting products to be displayed.
In 2013, having survived and grown following the recession of 2008, the Sumners felt it was their time to retire now. As previous customers of Chocolate Fayre, Kenny Walker and Sarah Wall were familiar with the shop. And as Our Story tells, taking on this highlight of the high street was part planned, part accident! And so we found ourselves on a busy pre-Christmas Saturday morning being in charge of our very own chocolate shop! It was a bit of a baptism by fire, however thanks to the previous help and advice of Sandra and David Sumner, and to the hard work and honest (mainly) tactful comments of Christoph (who, as he put it, was sold with the shop!), we got through our first Christmas, and began planning how we might put our stamp on Chocolate Fayre without ruining what was a very popular place for many residents and visitors alike.
Getting the word out by giving Chocolate Fayre some social media pages was the first step. And a year in, we launched the very first Chocolate Fayre website, with the ability for customers to order from anywhere in the world, and to send chocolates and other goodies all across the UK. Over the next few years, the already good reputation which Chocolate Fayre had gained over the previous 30 years was built upon, with the addition of even more chocolate flavours in the chocolate cabinet, the largest range of ice creams in town at the time, vegan chocolates, dairy free and gluten free chocolates, and even dairy free sorbets. Kenny and Sarah also continued the good work of their predecessors by continuing to support local charity events and also raising money themselves through their annual giant chocolate egg/bunny Easter raffles.
With shop space becoming a bit of an issue once again, Kenny and Sarah began looking for alternative, larger premises, keen to remain as part of the high street in Barnard Castle. After several years of searching, they finally came across the vacated building at 10 Horsemarket, and after 9 months of a complete rebuild of the shop, creating a new shop front, as well as a Secret Garden hidden in the peace and quiet behind the shop, Chocolate Fayre once again moved to our new prime spot over the road on Friday 13th September 2019 (what could possibly go wrong?!).
The new shop brought not only more space (inside and out), but we added a range of speciality coffees, teas and our now infamous hot chocolate, which could be enjoyed either in our Secret Garden, made for you, or to make at home, gaining a reputation and loyal following from many of you.
Well, following the successful first six months in our new home, we (like the rest of the world) had to deal with Covid, Brexit and now a potential recession. However, with our ever-growing wonderful team of enthusiastic, friendly and caring staff, and the amazing support which you, our fine customers, bring, we're not going anywhere anytime soon!
Here's to the next 35 years of Spreading Happiness with Chocolate!