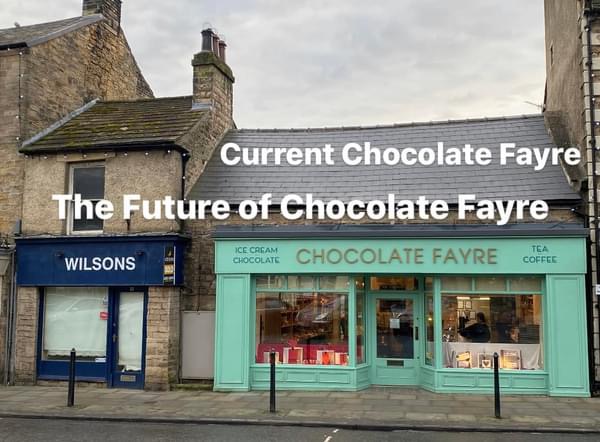 As anyone who has walked along Horsemarket may have noticed, over the past 18 months, we have lost both of our previous neighbours. To one side, Indigo shoes has opened, with owner Monica on hand to help with all of your lady's footwear needs. But to our other side, the former Wilson's shop has remained closed since the Wilson's retired last summer, leaving a gap on the high street.
The good news is that it won't be empty for too much longer. The even better news is that it will become part of your new Chocolate Fayre experience!
We have been listening to many of your comments and hope to be able to offer the most commonly requested services and products in our expanded space. What those are will be revealed in the future, but first of all, we have another mammoth building renovation project to get stuck into!
Like the current Chocolate Fayre shop, the building at 8 Horsemarket has not been looked after as well as it might have been. As we did with 10 Horsemarket, we have brought in Richard Green and his team as our main contractors to gut and renovate the whole building.
We will be taking the whole building back to the stone, then restoring and rebuilding the interior to create a space which compliments the existing Chocolate Fayre shop next door.
Our aim is to be able to ensure this building is still standing as a feature of the traditional Barnard Castle high street for generations to come. While we don't have a launch date yet (as you can see, there is a LOT of work to be done!), it will be 2024 before we open. Keep checking back on our social channels to see updates on progress and what our plans will be…