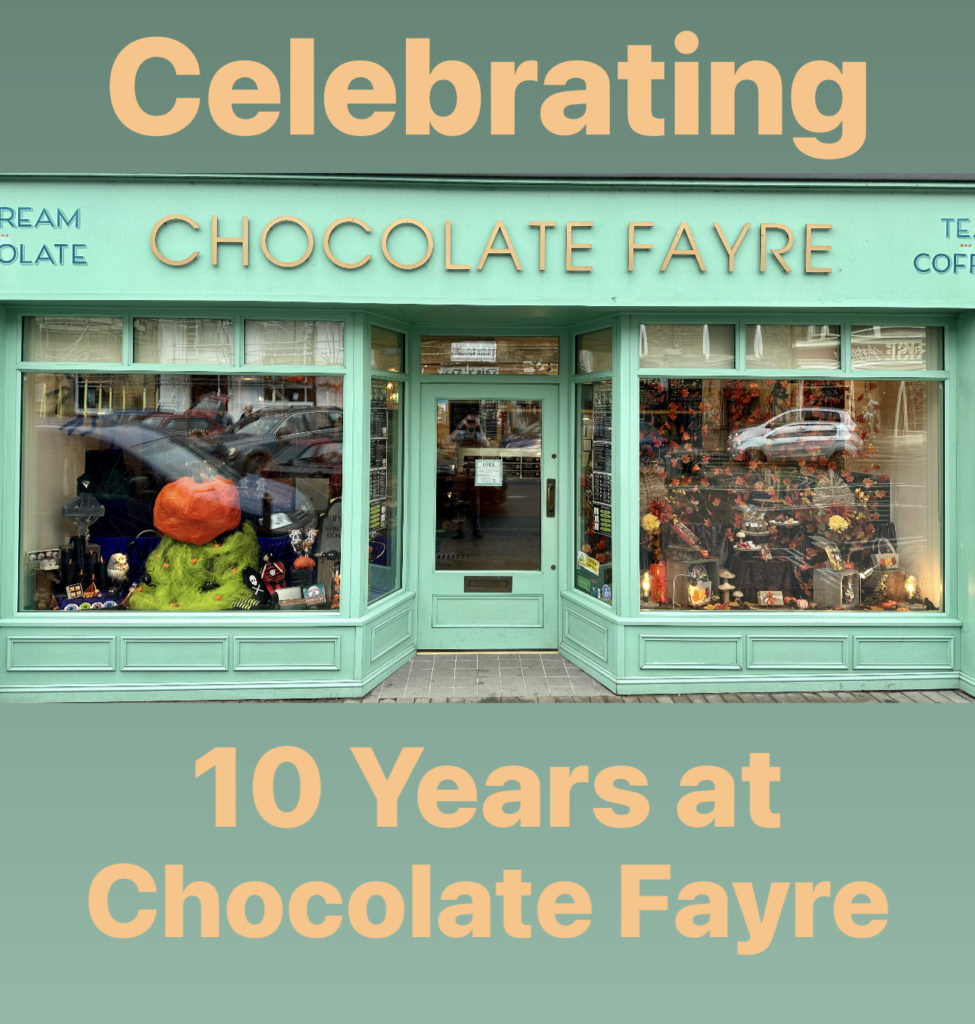 It's hard to believe, but on 1st November, it will have been exactly a decade since Sarah and I took the helm at Chocolate Fayre. Our predecessors, Sandra and David Sumner, were planning to retire, but were also very keen to see that Chocolate Fayre was passed on to safe hands, and (along with Christoph, their main member of staff), kindly and patiently helped bring us up to speed with everything involved in running the shop.
Our first few months were a bit of a blur, as we were thrust into Christmas season, and the crazy times which that brings to any retail business, but particularly for a chocolate shop! However, I do remember my first customer, who was Richard buying his (now very familiar) bag of chocolates. Along with many other customers, we still see Richard regularly in Chocolate Fayre frequently, which I hope is a sign that we've been doing something right over the years!
Within a year, we had launched the first Chocolate Fayre website, and with it, customers were able to order boxes of chocolates to be sent all over the UK. This included designing a bespoke system so that customers could choose exactly which chocolates they would like to include in their gift box, just as they would be able to do from our chocolate cabinet in the shop. But creating and running a website and online shop came with its challenges and steep learning curve! We knew it had to be improved, and we set about trying to redesign the site to make our customers' experiences better and easier to use. We're now on version 2.2 of the Chocolate Fayre website, and it is even more popular than ever!
Also in 2014, Kenny was featured in the nationwide Small Business Saturday campaign to help promote small high street businesses. This involved being one of only 50 businesses included in an original piece of artwork by Peter Blake (he of The Beatles Sgt Peppers album cover fame) as the main national campaign image.
This led to a very unexpected phone call from BBC Breakfast, asking if Kenny would come down to Manchester and be interviewed live on that red sofa, to talk all things small business for the Small Business Saturday campaign the very next morning. So off to Media City, Salford Kenny went, armed with a box of Chocolate Fayre chocolates, which were enjoyed by the presenters and crew before and after the interview, and carefully hidden behind the table during the broadcast!
By 2017, we'd launched our second website, and the shop was getting increasingly busy, to the point that we didn't have enough space to hold and display all of the products which we needed to keep all of you in chocolate and sweet treats. So we began the hunt for a new home for Chocolate Fayre. This was easier said than done, as we were keen to remain on the Barnard Castle high street. After about a year and a half of searching, viewing and not finding anything suitable, we finally put an offer in for the building at 10 Horsemarket, right in the centre of town.
However this was not going to be an easy, straightforward move! While the local rumours circulated about who had bought this building, and what it was going to become (and some of these were absolutely hilarious!), we were busy drawing up plans to completely gut and renovate not just the building, but the derelict, overgrown scrub land behind the building. Work began in February 2019, with a gloriously sunny spring allowing much of the ground works to be done without the problems of rain, mud and mess.
After 8 months of hard graft from Richard Green our the rest of our amazing trades teams, we finally opened the doors to the new Chocolate Fayre on Friday 13th September 2019, with an excited queue of customers waiting outside. As well as the expected chocolate cabinet full of dozens of different delicious chocolate flavours, ready packed gift boxes, ice creams and other sweet treats, our larger space allowed us to add a range of speciality coffees, teas and our Signature Hot Chocolates to the offering, which could all be enjoyed in the sunny, relaxed setting of our secluded Secret Garden behind the shop.
All was going at a frenetic pace for six months, then the world stopped. Covid came and we had to rapidly rethink what we could do to save our business. Turning to the website and telephones, we began trading from behind closed doors, fulfilling Easter orders, marking celebrations from family and friends unable to attend due to lockdown, saying thank you to neighbours and others, providing treats to help people struggling through an unprecedented period in history. We moved from trying to save our business to trying to help our community, with our daily Random Act of Kindness boxes sent to over a hundred deserving groups and individuals who had been exceptional in their selfless help of others during the scary times of lockdown, while providing a voice on the phone for some of our isolated customers, or a face at the end of the garden path to brighten up someone's day with a local delivery. It was a very touching and sobering experience, and made us very much appreciate what we had, and where we lived.
Thanks to you, our customers, and our incredible staff team, Chocolate Fayre has evolved and come through Covid, and through the cost of living crisis, and despite everything, we are very much still here, still doing what you love, and still Spreading Happiness with Chocolate! The future is also looking bright with more exciting news to follow soon…..