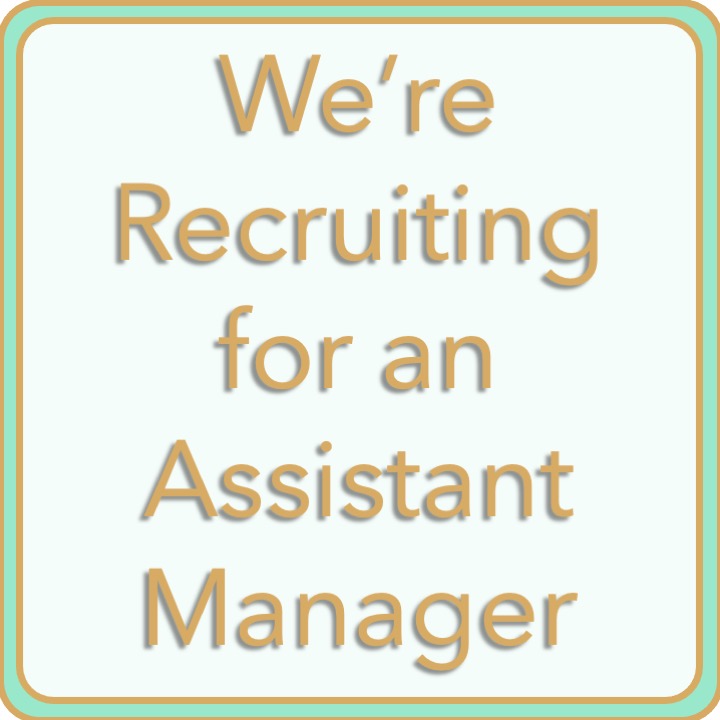 Chocolate Fayre Assistant Manager Role – What Is The Job?
We are looking for an enthusiastic, experienced person to join the team at Chocolate Fayre, Barnard Castle as Assistant Manager.
Hours: Full time (40 hours, including weekends & school holidays)
Renumeration: £25,000 pa, company pension scheme, 30 minute paid lunchbreak every day, in-store discounts, personal development and training opportunities
Starting Date: ASAP
This is a new role within the business at a very exciting time, as we look to grow the business, expanding what we do, and improving how we do it. Established in 1987, Chocolate Fayre has always been a family run business. The current owners have been at the helm for almost a decade, adding an online store, moving and expanding the physical shop, to include hot drinks and the ambience of a Secret Garden in that time. Over the next 6-10 months, they will be renovating an adjacent property to the current shop, creating spaces to reinstate the internal seating of the coffee shop, develop and grow the web shop, and add and develop various other products and services to our business offering.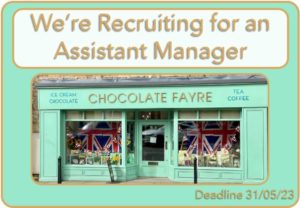 In a nutshell, the successful candidate will be providing support for the owners, through day to day management of the busy retail and coffee shop and leading the staff team in providing an excellent customer experience and service.
The role involves:
Making sure the shop runs smoothly on a day-to-day basis:

Ensuring procedures are followed and standards upheld consistently
Setting the example to the staff team in terms of attitude, presentation, and work ethic

Staff Team:

Supervise, motivate and manage the team of staff in a proactive and positive manner
Put together staff shift rotas to fit the business as well as the staff
Assist the owners in the recruitment and training of staff members
Coach and support new and existing staff members
Assist the owners in the personal development of staff members

Customer Experience:

Lead and model excellent customer experience and service
Serve customers as required
Assisting customers with their enquiries – face to face, over the phone, via email and our through our website/online store
Ensure that the premises and products are well presented at all times

Strategy and Planning:

Working with the owners, other team members, suppliers and others in the development of new products, services and ideas to improve the customer experience and grow the business

Stock and Products:

Manage stock deliveries
Assist the owners with stock ordering and stock management (eg stock rotation & inventory)

Website:

Assist with ensuring that our website is up to date and functioning effectively as expected
Managing the admin, picking, packing and posting of online and postal customer orders
Health & Safety:

Ensuring that health, safety and food hygiene procedures are adhered to and actioned at all times
Assist with updating procedures periodically
Undertake and complete any related training, as required

Security:

Being a key holder
Being responsible for cash handling and cashing up
Essential Skills & Experience:
Be available to work on Saturdays, Sundays, Bank Holidays and School Holidays, as part of the staff rota
Have proven people management skills, leading and motivating teams
Have exceptional customer service skills
Be able to get on well with people and be a positive and supportive team player
Be IT literate (MS Office is essential, website admin experience an advantage)
Be able to follow processes and procedures
Strong communication skills
Be able to learn quickly, work accurately and follow and deliver both written and verbal instructions well
Be able to operate effectively under pressure, while remaining calm and not losing focus
Be highly organised, be able to multitask and re-prioritise work as the day-to-day business operation requires
Be self-confident
Be reliable, trustworthy and discreet
Be physically fit and able to spend all day working on their feet, including being up and down stairs
 Desirable Skills & Experience:
Experience in food retail and/or hospitality sectors
Experience in stock control and stock ordering
Experience in cash handling
Creative and presentation skills
Have a problem-solving attitude to find suitable solutions to any issues or unexpected situations
Hold at least a level 2 food hygiene certificate
Love chocolate, ideally enjoy coffee, tea and good food in general.
If this sounds like something you would be excellent at and would enjoy, please email your CV (maximum of 2 sides of A4) and brief covering letter (including confirmation that you can work Saturdays, Sundays and school & public holidays) outlining how your skills and experience meet the above criteria to Kenny Walker at [email protected] or post or hand in your application in person to Kenny Walker, Chocolate Fayre, 10 Horsemarket, Barnard Castle, DL12 8LZ. Deadline for applications has been extended and is now midnight Wednesday 7th June. If you have any questions, you please get in touch.
Shortlisted candidates will then be asked to interview at a yet to be arranged date, before we select a successful candidate.