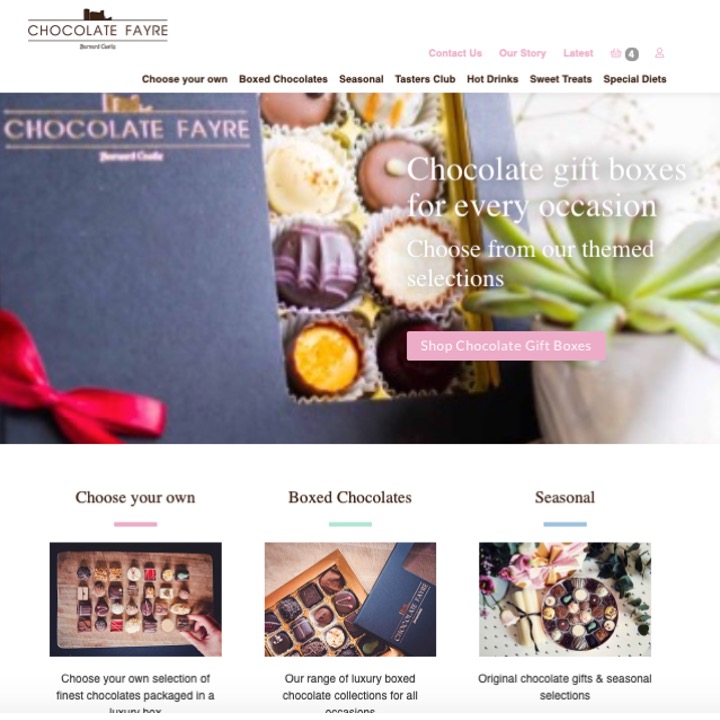 In the wonderful world of chocolate, the bit which you see, smell, taste and (hopefully) fall in love with is the end result of a huge amount of effort from a lot of people. We are constantly trying to improve what we do and how we do it, introduce new ideas and products, and make the Chocolate Fayre experience a fantastic one for you – our wonderful customers and supporters. When you come to visit us in our Barnard Castle shop in person, you can see the actual chocolates, smell the coffee, pick up a bag of Turkish Delight, try a sample of fudge, taste our now infamous Signature Hot Chocolate, and have a chat with us over the counter. However if you're based nowhere near us, then this website is your door into our world of chocolate and treats. But how do we give you as good as an experience as the limitations of scrolling on your screen will allow?
Beautiful Photos
We've been working with our fantastically talented local photographer, Claire Collinson, to improve and update a lot of our product photos, so that you can really see what you're ordering. There's still plenty to update, but the pages already look more in keeping with what you can see in the shop.`
Gift Vouchers
We've finally got a gift voucher which can be bought online and used either on our website or in our Barnard Castle shop! As you'd expect from any online gift voucher, you can add a gift message, and we can send it directly by email to the person who you'd like to give it to, for them to use to order some indulgent treats. Our website will automatically track how much of the voucher has been used, and leave any balance to be used for a future order.
Customer Login Dashboard 
In order to make your life as easy as possible, we've added some features to the My Account Dashboard area. As you can see from the menu image above, you can look through the details of your past orders; add commonly used addresses to your own address book; keep track of your gift voucher purchases; receive automatic reminders for important dates, such as birthdays, anniversaries, so that you don't have a last minute panic or (worse still) forget completely!
Other Useful Additions
We're all used to using the multinational online stores, with their familiar processes, layouts and features. Sadly, we don't have the billions of pounds and hundreds of thousands of staff to operate our website in the same way. However, we have been working on making it easier to use for you. We had already added PayPal as a method of payment, alongside all of the major credit cards, making it quicker and easier to place orders, especially on a smart phone. We've also been working with our web designers at Urban River to ensure our site is as secure as it can be, and meets all of the current requirements, so that you can use us without worrying about how your data may be stored or used*. We've also had a tinker behind the scenes to make the site run faster, especially on mobile devices.
We hope that you find that your Chocolate Fayre website experience is an improved one these days. However, if you have any further comments or suggestions, please contact Kenny on [email protected] and he'll add it to be a consideration for our next website updates.