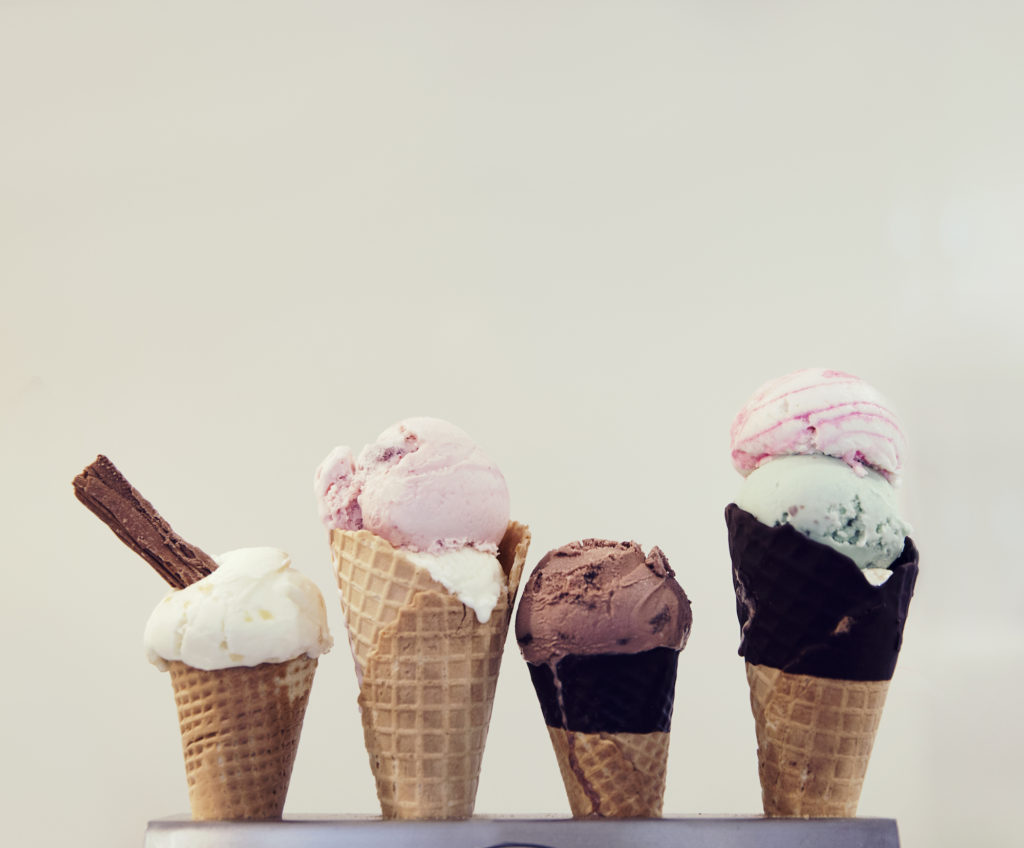 (Updated Monday 18th May 2020)
Please call us on 01833 631 307 to place an ice cream order and pay safely and securely over the phone.
With the weather beginning to think about being Spring-like, usually, we would be seeing a lot of you on a regular basis, enjoying after-school ice creams or playing in our Secret Garden in the sunshine at weekends. But of course, nobody can do that just now with the Covid-19 situation ongoing. As such, we have stocked up on home-scooping tubs of delicious Jersey Double Cream ice cream by English Lakes, and cones, and are now able to deliver ice cream around Barnard Castle and some of the surrounding villages*.
We have the following flavours in 1 litre tubs available at £6.75
Thunder & Lightning (cinder toffee & chocolate sauce)
*NEW* Kool Britania (Raspberry Ripple & Bubblegum)
Blackcurrant & Cream
Cappuccino (Coffee ice cream with chocolate chips)
Mint Choc Chip
Ginger
Lemon Burst
Raspberry Ripple
Real Strawberry
Death By Chocolate
Rum & Raisin (currently limited stock)
We also have the original Double Jersey Cream ice cream available in 1 litre (£5.25) or 2 litre (£9.50) sizes, and the Vanilla Lite sugar-free ice cream in 1 litre tubs (£5.75).
To go with your ice creams and to recreate the authentic Chocolate Fayre experience, we can also supply cones and chocolate flakes:
Wafer cones – small 10p each/large 25p each
Waffle/Sugar Cones – small 20p each/large 50p each
Chocolate Dipped Waffle Cones – small 35p each (sorry – currently out of stock)/large £1.00 each
Chocolate Flakes 25p each
Please call us on 01833 631 307 to place an order, pay safely and securely over the phone, and we'll deliver your ice cream contact-free, and completely free of charge in our local area. Please note that we are only in the shop Monday to Friday, so will call back any voicemail messages left over weekends as soon as we can on the following Monday.
To give you an idea of how many scoops to expect from one of our 1 litre tubs, they are more than double the size of a standard pot of Ben & Jerry's or Haagan Dazs, and also more than double the enjoyment!!
*We're currently delivering to Barnard Castle most week days, and to the following villages at least once a week: Startforth, Boldron, Bowes, Lartington, Cotherstone, Romaldkirk, Mickelton, Middleton-in-Teesdale, Eggleston, Woodland, Copley, Butterknowle, Cockfield, Staindrop, Gainford, Caldwell, Winston, Ovington, Whorlton, Westwick. But please get orders in early, as it can be a few days before we get to some areas in our schedule.